Dinner with the Deans, Again? Yes, Please!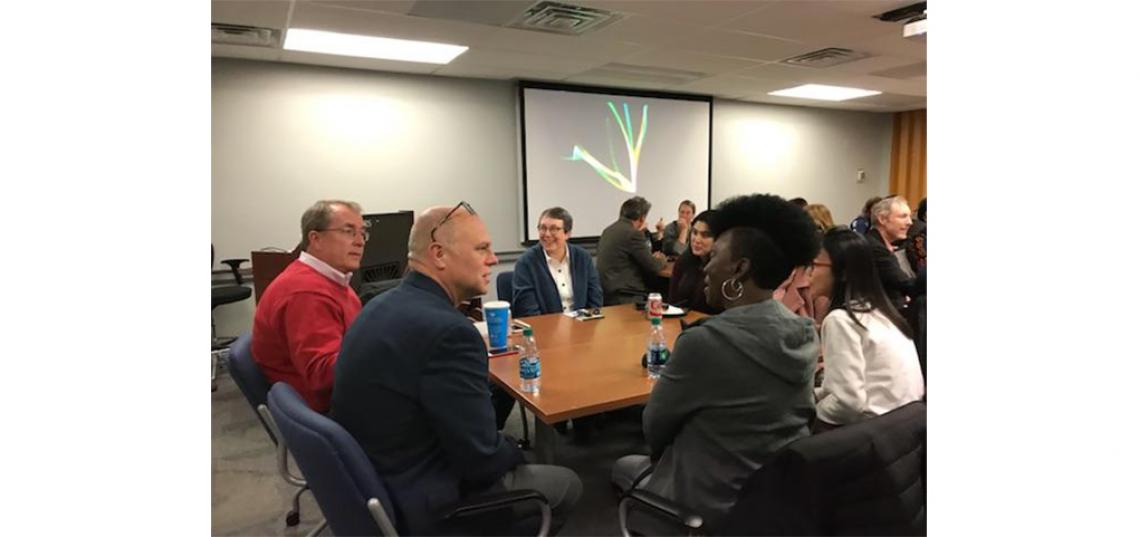 The Master of Communication and Media (MCM) Graduate Student Association (GSA) has done it again! On December 7, 2017, students were able to have some good food and spend some quality time with School of Communication and Information (SC&I) Deans – Dean Jonathan Potter,  Associate Dean for Research Mark Aakhus, Associate Dean for Programs Dafna Lemish, Associate Dean for Administration Karen Novick – along with MCM Program Director Richard Dool and Program Coordinator Margo Weber. This year, some faculty who were able to join found themselves in conversations with some of our wonderful MCM students and continue to build relationships.
Through this annual opportunity, students have found themselves asking questions and getting answers they have wondered about for months, or simply learning more about other students in the program and the faculty and staff that work together to make the program great. Students are consistently told to make efforts to network whenever possible and with whoever possible because you will never know how those relationships will help. Here at SC&I, we are once again reminded why we are not the typical research institution that cares only for results. Rather through Dinner with the Deans, we are able to see the willingness of the administrative staff, including the Deans, to meet with and get to know individual students within the school.
This year's event was planned to last only one and a half hours, but with the conversations and enthusiasm whirling, the event was extended until much later. Students have shared that this event is a must attend! This is not the first time that students have had this opportunity as the MCM Graduate Student Association work to provide this event annually, so when you have the chance to be a part of it, take it! Show them who you are as a student, but more importantly as a person! Be a part of the community you have immersed yourself into by being a student here!
Look for news about the next Dinner with the Deans, which will be held in the fall of 2018!