JMS Senior, Alexandra DeMatos, to Speak at SC&I's 2018 Convocation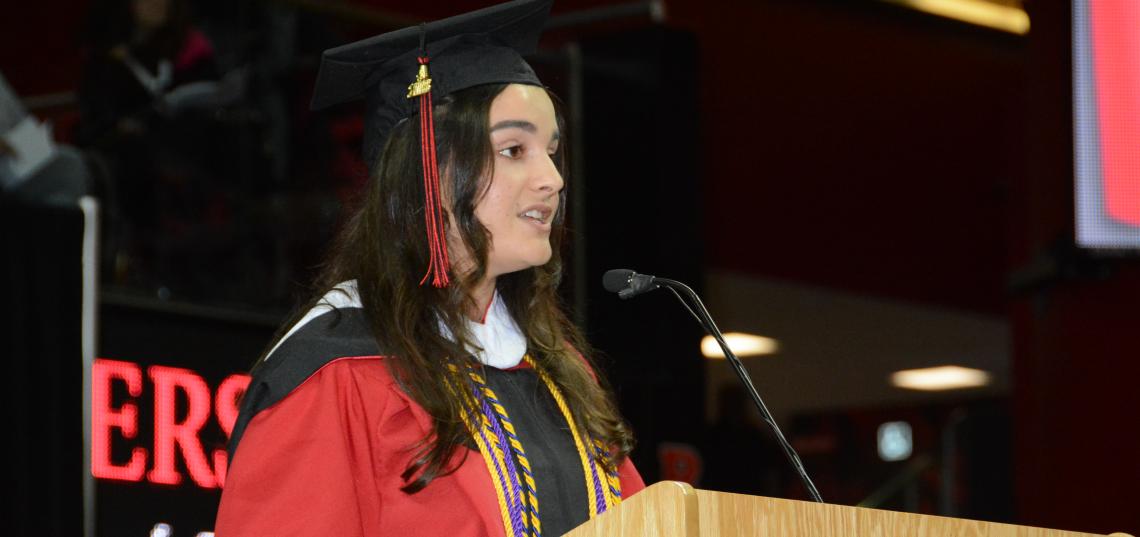 The School of Communication and Information (SC&I) at Rutgers University-New Brunswick, will hold its graduation ceremony for all students receiving a degree from SC&I on Thursday, May 10, 2018 from 3 – 5 p.m. at the Rutgers Athletic Center (RAC) on the Rutgers Livingston campus.
This year, over 1,000 students will receive undergraduate degrees in either Communication, Information Technology and Informatics (ITI), and Journalism and Media Studies (JMS). Additionally, 310 students will graduate with SC&I minors in either Digital Communication, Information, and Media (DCIM), or Gender and Media.
Nearly 150 graduate students will receive master's degrees from one of SC&I's two master's degree programs, Master of Communication and Information Studies (MCIS, now named MCM) or Master of Communication and Media (MCM), and Master of Information (MI).
Lastly, 18 students will receive their Doctor of Philosophy (Ph.D.) degrees.
The 2018 student Convocation speaker will be Alexandra DeMatos, an undergraduate student majoring in Journalism and Media Studies.
During her three years at Rutgers, DeMatos was extremely involved on campus and experienced great success both academically and professionally. DeMatos was the Copy Editor and eventually Editor-in-Chief of the Daily Targum during her three years on campus. She transferred to Rutgers at the beginning of her sophomore year and immediately jumped into the SC&I community, making memorable connections with faculty. Her professors believed in her abilities enough to recommend she apply for amazing internships. Her professional track record includes, Assistant to Gabe Pressman (known as the father of Broadcast), Assignment Desk Intern at NBC News and currently Reporting Intern at the Philadelphia Inquirer. DeMatos did this all while maintaining a very high GPA.
Dematos plans to base her Convocation speech around her own involvement and the involvement of all SC&I students on campus, outside of the classroom.
"You don't want to just go to class and graduate with a Journalism degree because that's not what anyone is looking for. You don't get that real-world experience in the classroom. Rutgers offers all these clubs and organizations that you could be involved in to get that real-world experience which will get you that job interview," she said.
DeMatos credits much of her success to the extracurricular activities offered by Rutgers and the support of her SC&I professors. Rutgers campus in general has provided so many opportunities for media students to put skills learned in the classroom into practice.
"It was definitely an eventful three years especially for media students, thinking about when Milo Yiannopoulos came to campus and the protests that happened on campus after the election. Those are great opportunities for people from all the media outlets on campus to be able to develop their professional skills. Regardless of if you're from a print or online publication or the radio station, that kind of content draws in professional outlets" DeMatos said. "With smaller schools, there's not really a lot to cover on campus."
During these volatile times on campus, DeMatos and her peers learned how impactful student journalism can be.
"Just because you're a student journalist doesn't mean you don't have an opportunity to make change or to make national headlines or to capture the attention of people outside our little community, because you do. You're a reporter just like anybody else, even if you're still developing your skills," DeMatos said. "Being at a big school like Rutgers you have opportunities to take advantage of to do that."
Ultimately, through her speech, DeMatos aims to encourage students to continue to pursue their full potential and to not give up when the competition of their fields become discouraging.
"I hope that my speech inspires others to stay in journalism during these times where it can be scary to be a journalist. Despite how stressful and time consuming it may be, journalism is one of the most important professions anyone can go into."
Photo: Alex DeMatos '18.
Photo credit: Dimitri Rodriguez, The Daily Targum.