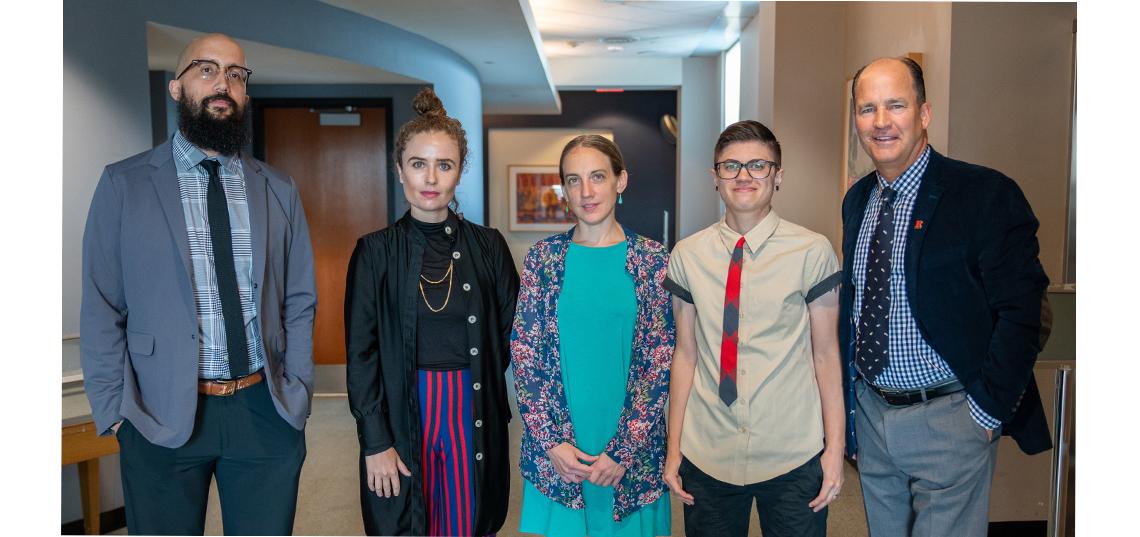 The New Faculty Colloquium Showcases Research in Library and Information Science and Public Relations
Five new faculty members are joining SC&I this fall, four in the Library and Information Science Department and one in the Department of Communication.
"It's exciting to welcome new faculty," SC&I's Dean Jonathan Potter said, as he greeted the faculty and staff who packed the auditorium in Alexander Library, all gathered for the New Faculty Colloquium, an annual fall tradition at SC&I.  "It's wonderful to be a part of a family, an organization, an institution, a place that is growing, expanding, rethinking, and changing. Change is how we develop a family, and today we are celebrating a new set of colleagues who are joining the SC&I family."
The five new faculty members Potter welcomed are Warren Allen, E.E. Lawrence, Britt S. Paris, and Gretchen Stahlman, who are joining the Library and Information Science Department, and Mark Beal, who is joining the Department of Communication. During the morning event, each new faculty member presented their research and answered questions from the audience.
Chair of the Library and Information Science Department and Professor Marie Radford welcomed the three new assistant professors to her department and said, "It's wonderful that four new faculty members are joining LIS this year. We were busy searching last year, and we are searching for three more faculty members this year."
While introducing the three new faculty members, Radford pointed out the many connections between them and SC&I. Allen's Ph.D. advisor at Drexel, Denise Agosto, earned her Ph.D. at SC&I, Radford explained. Lawrence's doctoral advisor was Emily Knox, who graduated with a Ph.D. from SC&I. Knox's advisor was Professor Marija Dalbello, (who was seated in the audience at the colloquium). Paris' advisor at UCLA was Leah Lievrouw, a former SC&I faculty member. Radford also noted how much the LIS Department has grown. In 2004, she said, the department had 34 students, today it has over 800 students.
The first faculty member to present research was Warren Allen. Allen joins SC&I as the new director of undergraduate studies in Information Technology and Informatics and assistant teaching professor in the Department of Library and Information Science. Allen, describing the ITI major, said ITI at SC&I is special because it combines practical skills and critical perspectives on role of IT and the world. "We are victims of our own success," Allen said. "Program growth leads to challenges, but also opportunities if it is managed well." He also noted that while industry interest in ITI is high, it evolves fast. "We can chase industry fads but we must balance our responsiveness to the outside world with the activities of the faculty," he said.
In terms of looking ahead, Allen said he will focus on updating the core curriculum (201 and 202), "create guided pathways that are sidewalks, not cow paths," and expand high impact experiences for students, such as capstone projects, internships, and opportunities to work with research faculty. "What is special about ITI is that it's not just an I.T. program. Sure, it's a program that fosters development of practical technology and workplace skills, but we also expect our students to think critically, and become thoughtful, ethical, technology practitioners," Allen said.
Proceeding alphabetically, the next to present was Mark Beal, who was introduced by the Acting Chair of the Department of Communication, Professor Lea Stewart. Stewart noted that  Beal received his bachelor's degree in Journalism and Media Studies from SC&I in 1989, and has just joined SC&I as a full-time Professor of Practice in Public Relations after teaching at SC&I for many years on a part-time basis while he also led Taylor, a public relations firm based in New York City. Beal is also the author of four books.
"The future of public relations," Beal said, is "based on research, research, research. Practitioners must know what's in the hearts and minds of the consumer, which is determined by conducting qualitative and quantitative research. Public Relations is no longer about pitching earned media, it's now based on the P.E.S.O. model: paid, earned, shared, and owned." Beal also said marketers and PR practitioners must now also focus on Generation Z, who are the largest consumer segment in the U.S.
Beal said he enjoys teaching and helping his students network and land jobs after graduation, and he looks forward to joining the faculty full-time. "As a new professor of professional practice in public relations, I left the colloquium energized and inspired by the future possibilities of combining the compelling academic research being conducted by the incredible faculty in the School of Communication and Information at Rutgers with my 25 years of experience in public relations and marketing. There are endless opportunities to develop and publish highly relevant and compelling thought leadership in the media, marketing, and communication marketplace today and in the future," Beal said.
E.E. Lawrence, who has joined the Department of Library and Information Science as an assistant professor, explained that they began their career as a professional librarian, and their time as a librarian in public services shapes their approach to the discipline and the issues they care about. Their main area of study is the philosophy of Library and Information Science, where they use informal analytical methods to interrogate normative questions related to librarianship, readers and reading, and values in information retrieval and recommender services. The overarching aim of their research, they said, is to contribute to the development of "a politically cohesive and socially just library." Lawrence described a current project that will deploy the method of conceptual analysis to answer the question "What is a diverse book?" They noted that the way in which we answer this question will guide calls to action related to inclusive collection development and readers' advisory practices. This is a reason to do conceptual analysis. "We need to define diverse books so the concept does the socially beneficial work we want it to do," Lawrence said.
With regard to the colloquium, Lawrence said, "My experience at the colloquium really reinforced one of the things that most drew me to SC&I in the first place: the sense of critical and collegial engagement with a wide array of intellectual projects. In just a few weeks on campus, I am already seeing the fruits of that engagement in my own work."
Britt Paris joins SC&I as an assistant professor of Library and Information Science. Her work investigates how different groups build and use information infrastructures, and how these infrastructures serve to reify and extend inequalities. She is interested in how to intervene in processes of information infrastructure design and use to promote justice. Paris focuses on critical informatics, the subfield of science and technology studies that incorporates critical theory and cultural studies.
In her previous work, she has investigated information infrastructures for incomplete data (police officer-involved homicide data in Los Angeles county), and vulnerable data (preserving climate and environmental justice data). Her current work focuses on manipulated data and how it travels through social media platforms, including an examination of the impacts of technically-sophisticated deep fakes and unsophisticated cheap fakes. With regard to deepfakes, she noted that "these realistic videos of people doing things that never happened are not yet totally believable, but they intensify the grip of an already pervasive post- truth mentality. When deepfakes and cheapfakes are taken not as expression but as evidence, manipulated media becomes a tool that impacts the balance of power." She concluded that "It is the sociotechnical future that motivates my work. I hope my work highlights the need to reimagine how data's power is wielded and identifies ways to do so." With regard to the colloquium, Paris said,  "I am honored and excited to be on the faculty here at SC&I and am glad to have had the opportunity to introduce my research to my new colleagues. I hope my work will meaningfully contribute to the tradition of the rigorous scholarship that SC&I is known for."
Gretchen Stahlman, an assistant professor of Library and Information Science, studies data management and scholarly communication, and she is specifically interested in uncurated data and long tail data sets in astronomy and biology. Stahlman began her career working in an academic library, before transitioning to a position as a documentation specialist. As an academic, she is now studying the phenomena of dark data, which is a concern in the field of astronomy and other disciplines. "Astronomical data in danger of becoming dark can be held by individual researchers and smaller collaborations and are sometimes organized on websites that could eventually cease to be maintained," said Stahlman. "In addition, much dark data correspond to published papers, where the data are not made available or are no longer available to be located and possibly reused by other researchers." Questions Stahlman is addressing in her current research include, "how can people locate dark data?", "why do authors not share data?", "who should manage the data, and to what extent?", and "how should publishers facilitate data sharing?" Having just arrived in New Brunswick the night before the colloquium from the University of Arizona, Stahlman said, "The SC&I New Faculty Colloquium was a warm and welcoming opportunity to meet and talk with many new colleagues, and I am looking forward to the future as part of such an exciting research and learning environment!"
Click here to learn more about the Library and Information Science Department and the Department of Communication at the Rutgers School of Communication and Information (SC&I).