Recent Master of Communication and Media Grad Putting Program Skills to Work
Elizabeth Boyle '18 MCM, gains opportunity through internship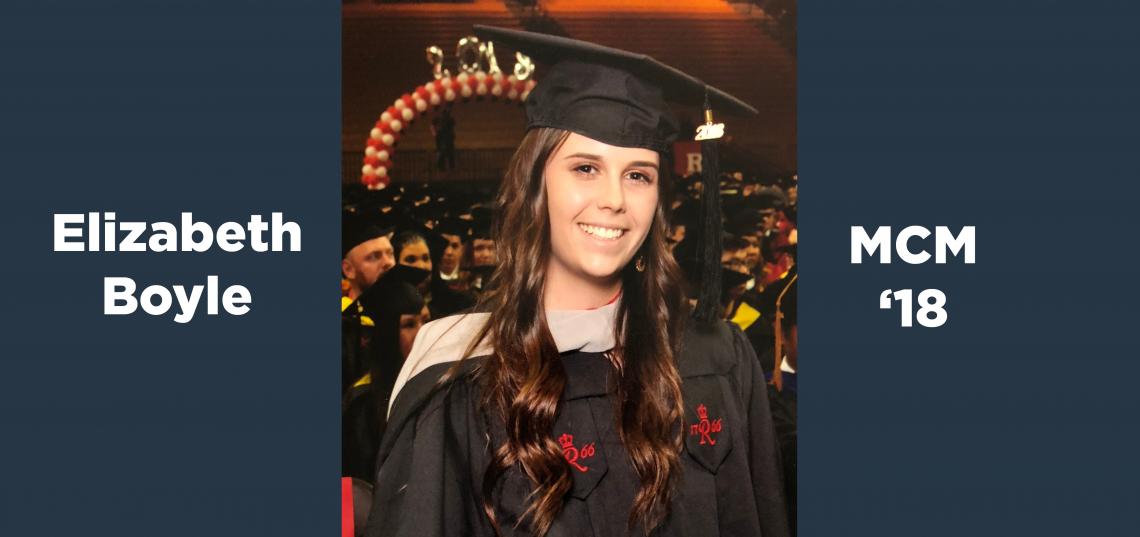 The Digital Media specialization in the Master of Communication and Media (MCM) program proved to be very beneficial for recent SC&I alumna Elizabeth Boyle '18. She has the opportunity to use the skills acquired in the program on a daily basis working with the Rutgers Graduate School of Education (GSE), where she had interned during her graduate studies. Boyle made such a good impression, she was asked to stay on and now gets to apply what she's learned in her ongoing role. We spoke to Boyle on her experience in the MCM program, and her advice to current students and recent grads.
Why did you choose the Master of Communication and Media (MCM) program?
I earned my undergraduate degree from SC&I and was really satisfied with the range of classes they offered and the faculty that led them. I had majored in Communication with a concentration in Public Relations and got the opportunity to study under industry experts like Part-Time Lecturer Jack Grasso, once a VP of Communications at AT&T. Before I even finished my senior year of undergrad, I applied to the MCM program with the intention of pursuing the specialization. I was drawn to it because of the real-world practical skills it offered but also the multidimensional approach it took to understanding "new" media. It wasn't solely about journalism and news media, though it did include it. It also considered individual, corporate, non-profit, and organizational media content, policy and production. This was appealing to me because it mirrored how I had already experienced media as a consumer, but with theory and empirical evidence  to now inform it.
Do you have a specific faculty member or mentor at SC&I that has helped to guide you in the right direction professionally?
Teaching Professor and MCM Director Richard Dool consistently went above and beyond to provide me with both academic and professional guidance. During my time in the program he helped me figure out what classes I could take that suited my interests while also making sure I stuck to my graduation timeline. I ended up completing the program in just over 12 months (May 2017- August 2018).
Can you tell us about your current position at Rutgers Graduate School of Education?
I actually started working at Rutgers GSE as part of a for-credit internship during my first summer in the MCM program. I worked as an intern in the Marketing and Communications Department for 12 weeks and when my internship concluded, they asked me to continue on with them into the school year.  Some of my day-to-day tasks include writing, developing and distributing weekly newsletters to students, faculty/staff, and other various stakeholders, developing email marketing campaigns, managing our social media accounts, designing website landing pages, and writing news stories and pitching them to the media. I've also worked in teams to develop our branding strategy and audience personas to craft our marketing campaigns.
What would you consider to be the 'must-have' skills to work in this industry?
Digital media, regardless of whether it is on social media platforms, the Internet, broadcast tv, video games, etc., is constantly evolving. Not only that, but it is doing so at such a rapid pace.  As a result, I think anyone operating in this industry needs to be able to stay on top of trends, and perform at maximum efficiency as a means of staying timely and relevant. This involves being able to think on your feet and problem-solve quickly. What might even be more challenging is that you also have to sometimes be creative when doing so. The best example I can think of was when Airbnb bought an advertising space during the 2017 Super Bowl at the very last second. The commercial - which focused on immigration and diversity - took a direct shot at anti-immigration comments President Trump had made the night before. The commercial was one of the most talked about ads that year and it was put together in the shortest amount of time. More info on that here.
How do you think SC&I alumni can assist current students on their career path?
I would say the simplest way would be to sit down and talk to them and answer their questions; just be somewhat of a lifeline for them to call if they need guidance.
What advice do you have for current students and upcoming graduates who want to launch a career in your field?
It's important to learn as much as you can from those around you. Everyone has a lesson to teach you, and you just have to be open and receptive to learning it. Working in the public relations realm, for instance, means you have to understand people; people with different perspectives with different cultural, ethnic, economic and linguistic backgrounds. If you learn from others and their experiences, you can better understand how people relate to your brand or organization and how you can come together for mutually beneficial outcomes.  Likewise, you need to be just as receptive to the more obvious learning opportunities. Boss needs help on a big project? Volunteer to assist. Networking event in your town? Go. Free online class? Take it.  Learning should be a lifelong endeavor and shouldn't stop once you leave the classroom.
For more information on our MCM program, click here.