SC&I Faculty Member Named Loyal 'Son' of Rutgers
JMS Director Steve Miller Awarded Prestigious Honor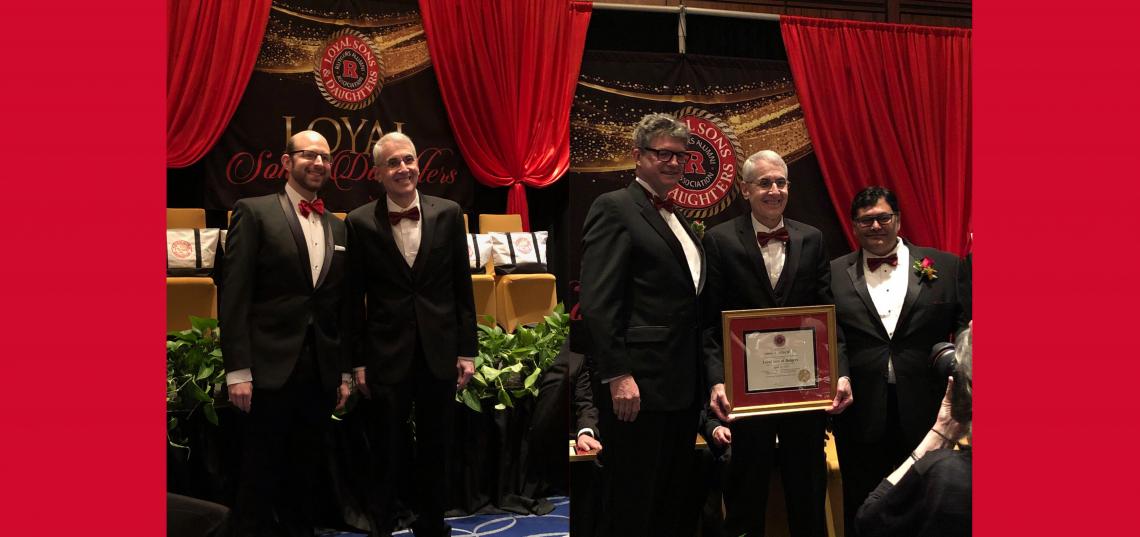 Steve Miller, Director of Undergraduate Studies in Journalism and Media Studies (JMS), has been nominated for and accepted into the Loyal Sons and Daughters of Rutgers, the Rutgers Alumni Association's highest honor given to those individuals who have made a significant contribution to the University. 
Miller is known for his unbridled commitment to students, which led to his nomination by JMS alum Jason Goldstein '05.  "I'm really flabbergasted and humbled by this honor," Miller said. "The reason I'm here has been and always will be our students."
Miller graduated from Rutgers in 1979 with a degree in History. During his undergraduate years, he immersed himself in campus communications by working for The Daily Targum and WRSU radio. Miller went on to receive a Master's Degree in Education from Boston University, but would come back to Rutgers in 1987 to run the SC&I (then SCILS) Audio/Visual lab. His role in the JMS department began the following year when Professor Emeritus Roger Cohen asked Miller to teach courses in TV Radio and Film and Television Production.  Over the next decade, he taught Broadcast News Writing, Media Ethics and Law, A.I.D.S. and the Media, Public Speaking and, was given the reigns to the department's successful internship program.
Over 30 years later, Miller's relationship with and advocacy for students is legendary. "Our students are smart, talented and hungry," he said. "They crave knowledge – they want to expand their world. University students are the largest untapped resource this country has. I'm lucky enough to work with colleagues who also recognize that fact."
Miller makes himself available to students and alumni on a regular basis on a myriad of topics – from class schedules to major career decisions to family updates. "Your relationship with us is a lifelong relationship. The door is never closed," he tells students.
Alumnus Tim Sullivan '96 testifies to this commitment. At a recent SC&I Scholarship Award Dinner, Sullivan spoke fondly of Miller, saying, "As most alumni will attest, Steve never really stops being your professor, advocate, friend or connector.  You can call him any day of any year and it's like you saw him five minutes ago and he wants you to succeed."
Miller's devotion to the JMS department is shared among its students. "Our JMS students are a family. They take care of each other, they look out for each other," he said.
According to Miller, Cohen, the late Professor Tom Hartmann, and former Associate Dean of Administration and Student Services Sydell Spinner had a tremendous impact on his life and career. Miller also praises his colleagues, including JMS Chair and Associate Professor Susan Keith, former Chairs JMS Associate Professor Jack Bratich and Professor John Pavlik, and SC&I Associate Dean Karen Novick, thanking them for "allowing me to be who I am."
The selection by the RAA was met with unanimous support from SC&I faculty, including Dean Jonathan Potter. "This really is an appropriate award for someone who has been so dedicated to Rutgers and so effective in his role for the School," Potter said.
The JMS faculty are particularly thrilled for Miller. "This is an amazing honor for Steve but one that is richly deserved," Keith said. "In his roles as undergraduate director and internship coordinator, Steve helps many students find their professional paths as media-makers. Then he keeps up with them as alumni, helping them network with each other and bringing them back to campus as guest speakers and sometimes even part-time lecturers."
At the forefront, Miller always goes back to his primary focus – his students. "Hopefully I'm considered a teacher, journalist, confidante, and friend to these students and our alumni."
The Loyal Sons and Daughters of Rutgers was created in 1958 to honor RAA officers for exemplary leadership service. According to the RAA website, the specific criteria to be met is that the service "be substantial, sustained, and have significant impact for the University." Nominations are made by past recipients, and selections are decided by the RAA Loyal Sons & Daughters committee and Board of Directors. Over 700 men and women have been given this honor.
Miller was inducted at the RAA's Awards Dinner at the Hyatt Hotel in New Brunswick on April 13, 2019. SC&I congratulates him on this prestigious award.
To find out more about Rutgers Alumni Association Loyal Sons and Daughters, click here