Monica Soveja MHCI'22 Reflects on Her Education and Shares Take-Aways
Pursuing the degree is about academic achievement and personal development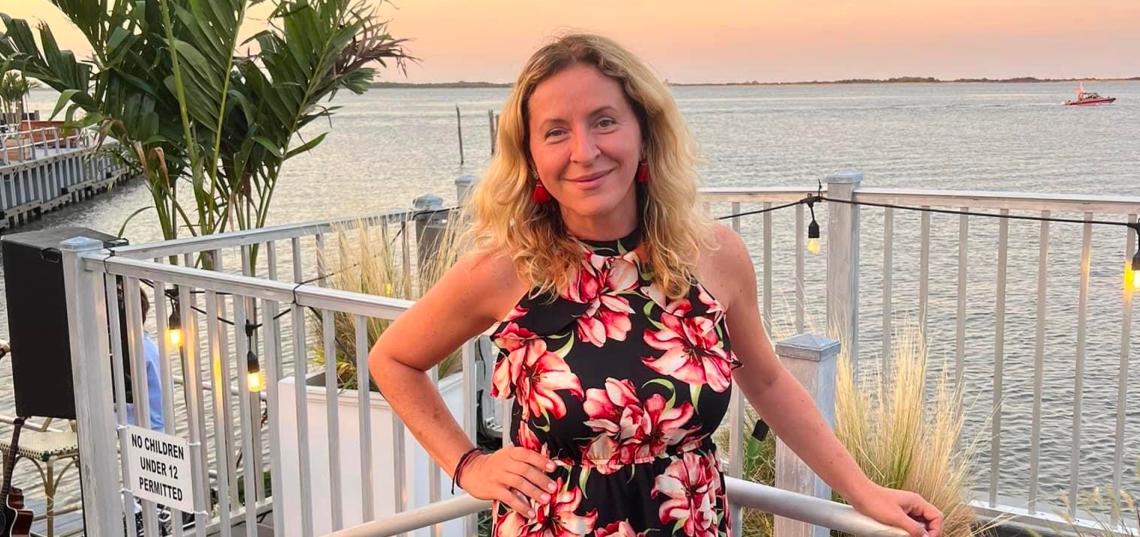 Monica Soveja MHCI'22 is among the first graduates of our Master of Health Communication and Information (MHCI) program. In this interview with SC&I, she shared her background, thoughts on the program, and advice for anyone interested in studying the communication, information, and media aspects of health-related policies and practices at the graduate level.
SC&I: What were your early educational experiences?
MS: I was born and raised in Romania. My curiosity and inquisitive mind led me to earn my first bachelor's degree in journalism from Babes-Bolyai University. During college, I worked as a radio station host in my hometown of Cluj. However, my desire to help others, coupled with my compassionate nature and zeal for learning, tugged at me, and shortly after, I returned to college to study social work.
SC&I: What were your post-college experiences?
MS: In 2003, I was given the undeniable opportunity to intern at a nonprofit agency in New Jersey. Venturing to the United States represented the start of a new life with endless possibilities. After the conclusion of my internship, the company hired me to work as community support staff in a local group home. After flourishing in this role, I was promoted to group home manager just one year later, where I earned the Manager of the Year Award for coordinating an excellent team. Ready for a new challenge, I began working as a medical assistant at a busy practice in Red Bank, N.J. My growing interest in the medical field made this position especially attractive. After two years, I was promoted to clinical manager and was responsible for supervising a team of five medical assistants. In addition, I was the diabetic educator, performed vascular testing, and oversaw several special projects for our practice. In 2018, I accepted a fantastic offer to work for DaVita, one of the leaders in nephrology, providing dialysis treatments. For four years, I was the facility administrator assistant and a health educator for patients starting dialysis.
SC&I: What were the highlights of your MHCI experience? 
MS: This was my first academic experience in the U.S., and I was impressed by the overall program. It was also the most challenging thing I have done in my life. The professors were very welcoming and always available to connect with us, students. I especially enjoyed classes taught by the MHCI Program Director, Teaching Professor Richard Dool, Assistant Professor of Professional Practice, Communication Mark Beal, Associate Professor of Communication Matthew Matsaganis, Associate Professor of Communication Maria Venetis, and part-time faculty member Cecelia Houser. Collaborating on projects was a great way for me to connect with other students in the program. Coming from different backgrounds, we all shared valuable experiences, and I gained so much perspective. These collaborations also allowed me to make friends and have people encourage me when I was struggling with a difficult assignment. Building up a support system is a must in grad school. 
SC&I: What attracted you to the MHCI program at Rutgers? 
MS: Rutgers appealed to me not only because it had a good reputation but also because it was one of the only schools offering a Health Communication program. After working in the healthcare field for more than 10 years, I saw first-hand the critical role health communication plays in patient-centered care. Also, the misinformation and disinformation experienced during the COVID-19 pandemic made me realize that effective health communication is vital to any public health crisis. My decision to join the MHCI cohort was prompted by the pandemic and my desire to connect better with patients and providers.
SC&I: How well did the MHCI program meet your expectations?
MS: I started the program in the middle of a pandemic, not knowing what to expect. I envisioned going weekly to the campus and was disappointed that classes were only online. Online classes ultimately ended up being an advantage since they allowed me to continue working full-time. During my two years in the program, I learned more than I expected. I struggled for a while with the "impostor syndrome," but I built confidence and improved my writing and presentation skills. During my time in the MHCI program, I realized that this degree is not always about academic achievement but also about personal development.
SC&I: What work are you doing now? 
MS: I am currently an undergraduate instructional assistant for Assistant Professor of Communication Yonaira Rivera for her health message design class. Additionally, I was accepted into the fall cohort of IPG Health's "Write It Forward" science copywriting program. It's a preceptorship, a period of mentor-supervised practical experience and training. After completing the 12-week learning program, I will hopefully get the opportunity to work as a health junior copywriter for one of the IPG's companies.
SC&I: What advice do you have for prospective students? 
MS: Take advantage of every opportunity that comes your way during this program, whether it's an internship, fellowship, or study abroad semester. Get to know your professors by meeting with them individually and discussing your goals for the program. Connect with classmates and alumni and expand your network—it will come in handy when applying for a job. One of the best pieces of advice I received from my professors was to reach out to former alumni and connect with them on LinkedIn. It was a great way to learn more about different career paths in the field, and I valued all the advice I received.