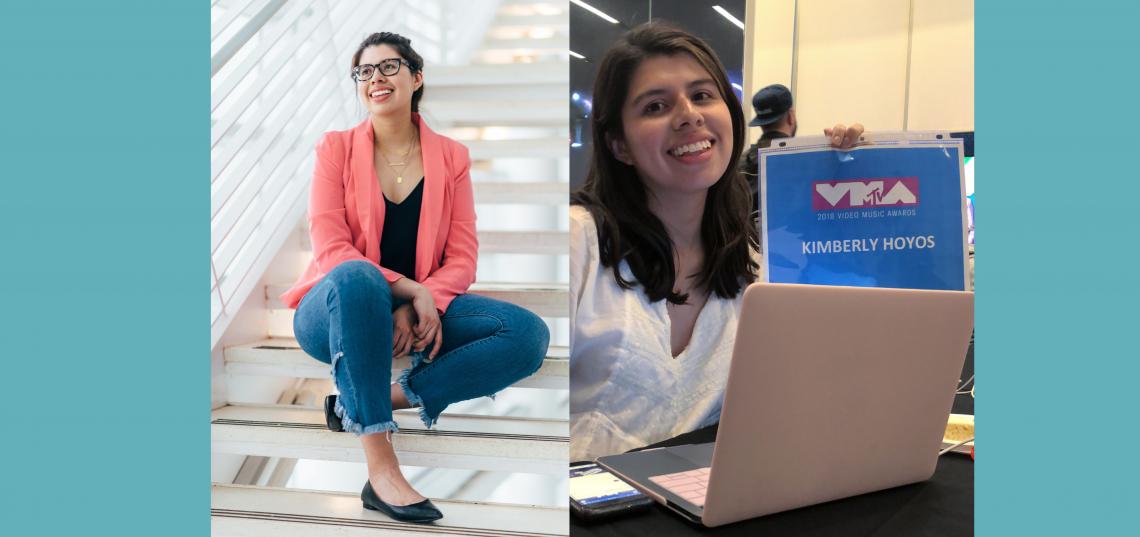 One Year Later: JMS Grad Fulfills Multiple Roles as Entrepreneur, Filmmaker and MTV Digital Strategist
Kim Hoyos '18 discusses working for MTV while pursuing her career in film
Some students plan to travel, relax or just begin the job hunt after graduation. Not Kim Hoyos '18. Even before convocation last May, the Journalism and Media Studies (JMS) graduate was preparing for her position as Social Media Coordinator at MTV, overseeing the website she created for female and non-gender conforming filmmakers, and continuing her projects as a freelance photographer and videographer. During her time at SC&I, Hoyos also completed a minor in Gender and Media and earned her certificate in Digital Filmmaking. Hoyos recently took some time out of her very busy schedule to speak with us on her role at MTV, her future endeavors as a filmmaker, and other developments over the past year since graduating from SC&I.
Can you describe your role and responsibilities as Digital Strategy Coordinator for MTV?
I work on MTV's social impact team as the digital strategy coordinator. My team essentially works with anything pro-social or issue based that MTV, Vh1, and Logo creates. Some things we do are advise on content for linear shows, create original social impact campaigns, boost the profile of our non-profit partners, and make sure our digital teams are using conscious wording when dealing with sensitive breaking news topics. My role for the department is essentially to brainstorm new digital ways to implement our campaigns, to make sure all teams we work with have the pro-social assets and wording they need for specific initiatives, and to work with our technology vendors to bring our ideas to life. Basically, I work to bring social justice campaigns to life that educate our audience, normalize taboo topics and hopefully create accessible resources for change.
What are some memorable projects you've worked on so far in that role?
Most recently, I coordinated the digital content for MTV's +1 the Vote, a midterm elections campaign aimed at increasing youth voter turnout. I helped implement a plan that gained over 150 million digital impressions throughout the length of the campaign. It was really dynamic because we launched at the MTV Video Music Awards with a Public Service Announcement announcing +1 the Vote. Then we created various multidimensional creative solutions to the issue of young people needing to Get Out the Vote. We did a mixture of celeb-driven video content, GIPHY stickers, explainer videos, and even had a grant program for young people throwing voting parties. I started my job about a week or two before the VMAs so I was totally enveloped in everything social impact. It was really difficult at some points but has definitely made me shed any 'first job jitters' I could have had.
What are three specific things you learned from your program at SC&I that equipped you for your current position?
HAVING THE LANGUAGE TO UNDERSTAND THE WORLD AROUND ME: Taking

Gender, Race and Class in the Media

my sophomore year with Assistant Professor of JMS  

Khadijah White

was absolutely life changing. It is the essence of all of the work I have continued to do in my life. When I started that class, I already had an interest in the intersections of identity and media but through this class, I gained the tools to consume and create media more consciously and have the language to critique it. My entire job is about being able to do this.

INSPIRING ME TO TRY OUT NEW THINGS: My senior year, I took 

Media, Science and Public Engagement

with Associate Professor of JMS

Lauren Feldman

. I had zero interest in science news writing or reporting but I decided to try it out. Taking that class blew me away. Feldman is an incredible teacher and through this class I learned that even the things that aren't in my wheelhouse could still be things that interest me and push me to be better.

KNOWING THE HISTORY BEHIND MOVEMENTS: In my junior year, I took Media and Social Change with Associate Professor of JMS

Regina Marchi

. Taking this class pushed me to investigate the roots of the movements I was interested in and know the history of the changemakers that ignited them. Being able to contextualize the key players in social movements is vital to being an advocate of specific issues. In my job, it's important for me to have background on various pro-social movements and the originators of their messages.
Congratulations on launching your website The Light Leaks in 2017! Can you tell us about the mission of your site and what inspired you to create it?
I was inspired to create The Light Leaks because of my own experiences as a female filmmaker. My identities are incredibly important to me - I view everything through the lens of my identities because there's no way I can't. I'm a first-generation Latina female filmmaker and these intersections are the backbone of who I am. I wasn't finding many spaces online or off where I could connect with other female filmmakers to share ideas, projects, and our experiences. Because of the struggles I often had as the only woman (especially a minority woman) in workspaces, classrooms and on set I really wanted to create a space where identity was celebrated. The Light Leaks, LLC is a company and editorial website for the education, inspiration, and empowerment of female and gender non-conforming filmmakers. The Light Leaks' editorial site publishes tips and personal narratives written by a contributor community, interviews with established filmmakers, and spotlights on rising creators. Its' offline events focus on creativity, career building and more, and have included personal branding workshops, video editing classes, and film showcases. Across all social media platforms, The Light Leaks works to spread inspiration and news. I run the site and company by myself but this semester I've had some help from a for credit intern - she's great!
You've been featured on Amy Poehler's 'Smart Girls' website! What did this recognition mean to you and how has it impacted your career path?
It meant the world to me - I was 19 years old and just starting to really build my career. Being recognized for my work, aspirations, and identity really gave me a confidence that I could never have replicated on my own. It was able to boost my profile and become a great note on my resume and cover letter. It showed me, as a woman, that it is not wrong or in any way selfish to be recognized or celebrated for your work. So often, young women, especially creatives, seem to make themselves smaller - this experience pushed me to dream bigger.
What are your goals as a filmmaker?
I want to continue to create work I love! Though I have a company supporting other filmmakers, write as a freelancer for various publications, and do speaking engagements, I don't feel like I'm any less of a filmmaker. I feel that I'm simply exploring storytelling through the medium I want at that particular moment in time. I definitely feel like this same principle will apply in my future work as a filmmaker. I want to experiment with genre and style and carve out my own narrative. I know I definitely would love to work in the romantic comedy / comedy realm and experiment more with tv sitcom writing. I'd also love to one day make The Light Leaks a production company.
What essential changes do you feel need to be made in the filmmaking industry for women to have more opportunities?
The jobs are there and there's more than enough experience from applicants - the hiring system has to change. The perspective of women in film needs to change. It's been found that women directors employ more women and tend to have more diversity on screen (source). It's also been proven that diversity on screen makes more money. The ideology of women in film needs to change. Women in positions of film leadership will in turn, make a production company more money because it's a cast that's more reflective of the world we live in, employs a diverse box-office-breaking cast, and features a story that is a unique perspective from a marginalized group - it's a no-brainer. Hire women. Other than ideology, don't be a gatekeeper - share jobs with women, normalize conversations about pay on set, make your sets comfortable for women to be on, and support inclusive media. Consumers have so much power!!
Do you have a specific faculty member or mentor at SC&I that helped you on your career path?
So many teachers have impacted my journey at Rutgers and beyond. For sure I could not have had the confidence and budding career I have now if Director of JMS Undergraduate Studies Steve Miller, Teaching Professor of Communication and Information and Director of Undergraduate Interdisciplinary Studies Mary Chayko, JMS Department Chair and Associate Professor Susan Keith, Teaching Instructor Neal Bennett, and Regina Marchi had not had me under their wing throughout my time at RU. Whether it was quick advice needed via email right before a job interview, extra help in a class, or even someone to listen to my personal doubts - each of these individuals helped me.
What advice would you give to current students or recent graduates who want to launch a career in film and/or digital media?
Knowing who you are and what your value system is, is an irreplaceable life skill. When you take the time to discover what you really enjoy doing, not what you think a job title means, you're doing work that will benefit you for the rest of your life. Find out what you excel at and honestly even the tasks you'd rather avoid, this can guide you through starting a side hustle, applying to jobs, collaborating with friends, or any other professional step you're looking to make. So often, as young people, we think that we need to aim for a specific job tier, title, or paycheck but by doing that we're negating ourselves the opportunity to explore. And if there's one thing I've learned so far in my time in media is that there's no one way to do anything. There is no path. So, find out who you are, learn as much as you can, and take your time - things will definitely land where they're supposed to.
For more information on SC&I's Journalism and Media Studies program, click here
For more information on SC&I's Gender and Media Minor, click here